Интернет магазин профессиональной косметики «Карамель»
Работаем с 10:00 до 21:00 / Без перерывов и выходных
Davines The Circle Chronicles Маска-суперблеск для волос
Array ( [ORIGINAL_PARAMETERS] => Array ( [IBLOCK_TYPE] => catalog [IBLOCK_ID] => 4 [PROPERTY_CODE] => Array ( [0] => VOLUME [1] => ) [META_KEYWORDS] => - [META_DESCRIPTION] => - [BROWSER_TITLE] => - [SET_CANONICAL_URL] => Y [BASKET_URL] => /personal/cart/ [ACTION_VARIABLE] => action [PRODUCT_ID_VARIABLE] => id [SECTION_ID_VARIABLE] => SECTION_ID [DISPLAY_PANEL] => [CACHE_TYPE] => A [CACHE_TIME] => 36000000 [CACHE_GROUPS] => Y [SET_TITLE] => N [SET_STATUS_404] => Y [PRICE_CODE] => Array ( [0] => BASE ) [USE_PRICE_COUNT] => N [SHOW_PRICE_COUNT] => 1 [PRICE_VAT_INCLUDE] => Y [PRICE_VAT_SHOW_VALUE] => N [LINK_IBLOCK_TYPE] => [LINK_IBLOCK_ID] => [LINK_PROPERTY_SID] => [LINK_ELEMENTS_URL] => link.php?PARENT_ELEMENT_ID=#ELEMENT_ID# [ELEMENT_ID] => 0 [ELEMENT_CODE] => maska-superblesk-dlya-volos-davines-the-circle-chronicles [SECTION_ID] => 0 [SECTION_CODE] => davines-the-circle-chronicles [SECTION_URL] => /#SECTION_CODE#/ [DETAIL_URL] => /#SECTION_CODE#/#ELEMENT_CODE#.html [DETAIL_SHOW_PICTURE] => Y [USE_MAIN_ELEMENT_SECTION] => Y [STRICT_SECTION_CHECK] => Y [COMPATIBLE_MODE] => Y [ADD_SECTIONS_CHAIN] => Y [PRODUCT_DISPLAY_MODE] => Y [CURRENT_BASE_PAGE] => /davines-the-circle-chronicles/maska-superblesk-dlya-volos-davines-the-circle-chronicles.html [PARENT_NAME] => bitrix:catalog [PARENT_TEMPLATE_NAME] => .default [PARENT_TEMPLATE_PAGE] => element ) [USE_CATALOG_BUTTONS] => Array ( [add_product] => 1 [add_sku] => 1 ) [BUY_URL_TEMPLATE] => /davines-the-circle-chronicles/maska-superblesk-dlya-volos-davines-the-circle-chronicles.html?action=BUY&id=#ID# [ADD_URL_TEMPLATE] => /davines-the-circle-chronicles/maska-superblesk-dlya-volos-davines-the-circle-chronicles.html?action=ADD2BASKET&id=#ID# [SUBSCRIBE_URL_TEMPLATE] => /davines-the-circle-chronicles/maska-superblesk-dlya-volos-davines-the-circle-chronicles.html?action=SUBSCRIBE_PRODUCT&id=#ID# [COMPARE_URL_TEMPLATE] => /davines-the-circle-chronicles/maska-superblesk-dlya-volos-davines-the-circle-chronicles.html?action=ADD_TO_COMPARE_LIST&id=#ID# [COMPARE_DELETE_URL_TEMPLATE] => /davines-the-circle-chronicles/maska-superblesk-dlya-volos-davines-the-circle-chronicles.html?action=DELETE_FROM_COMPARE_LIST&id=#ID# [~BUY_URL_TEMPLATE] => /davines-the-circle-chronicles/maska-superblesk-dlya-volos-davines-the-circle-chronicles.html?action=BUY&id=#ID# [~ADD_URL_TEMPLATE] => /davines-the-circle-chronicles/maska-superblesk-dlya-volos-davines-the-circle-chronicles.html?action=ADD2BASKET&id=#ID# [~SUBSCRIBE_URL_TEMPLATE] => /davines-the-circle-chronicles/maska-superblesk-dlya-volos-davines-the-circle-chronicles.html?action=SUBSCRIBE_PRODUCT&id=#ID# [~COMPARE_URL_TEMPLATE] => /davines-the-circle-chronicles/maska-superblesk-dlya-volos-davines-the-circle-chronicles.html?action=ADD_TO_COMPARE_LIST&id=#ID# [~COMPARE_DELETE_URL_TEMPLATE] => /davines-the-circle-chronicles/maska-superblesk-dlya-volos-davines-the-circle-chronicles.html?action=DELETE_FROM_COMPARE_LIST&id=#ID# [CONVERT_CURRENCY] => Array ( ) [CATALOGS] => Array ( [4] => Array ( [IBLOCK_ID] => 3 [PRODUCT_IBLOCK_ID] => 4 [SKU_PROPERTY_ID] => 65 [VAT_ID] => 1 [YANDEX_EXPORT] => N [SUBSCRIPTION] => N [CATALOG_TYPE] => X [CATALOG] => Y ) ) [MODULES] => Array ( [iblock] => 1 [catalog] => 1 [currency] => 1 [workflow] => ) [PRICES_ALLOW] => Array ( [0] => 1 ) [CATALOG] => Array ( [IBLOCK_ID] => 3 [PRODUCT_IBLOCK_ID] => 4 [SKU_PROPERTY_ID] => 65 [VAT_ID] => 1 [YANDEX_EXPORT] => N [SUBSCRIPTION] => N [CATALOG_TYPE] => X [CATALOG] => Y ) [CAT_PRICES] => Array ( [BASE] => Array ( [ID] => 1 [CODE] => BASE [SORT] => 100 [BASE] => Y [XML_ID] => BASE [TITLE] => Розничная цена [~TITLE] => Розничная цена [SELECT] => CATALOG_GROUP_1 [SELECT_EXTENDED] => Array ( [0] => PRICE_1 [1] => CURRENCY_1 [2] => SCALED_PRICE_1 ) [CAN_VIEW] => 1 [CAN_BUY] => 1 ) ) [PRICES] => Array ( [PRICE] => Array ( [PRINT_VALUE] => 0 ) ) [PRICE_MATRIX] => [MIN_PRICE] => [CATALOG_GROUP_ID_1] => 1 [~CATALOG_GROUP_ID_1] => 1 [CATALOG_GROUP_NAME_1] => Розничная цена [~CATALOG_GROUP_NAME_1] => Розничная цена [CATALOG_CAN_ACCESS_1] => Y [~CATALOG_CAN_ACCESS_1] => Y [CATALOG_CAN_BUY_1] => Y [~CATALOG_CAN_BUY_1] => Y [CATALOG_PRICE_ID_1] => [~CATALOG_PRICE_ID_1] => [CATALOG_PRICE_1] => [~CATALOG_PRICE_1] => [CATALOG_CURRENCY_1] => [~CATALOG_CURRENCY_1] => [CATALOG_QUANTITY_FROM_1] => [~CATALOG_QUANTITY_FROM_1] => [CATALOG_QUANTITY_TO_1] => [~CATALOG_QUANTITY_TO_1] => [CATALOG_EXTRA_ID_1] => [~CATALOG_EXTRA_ID_1] => [ID] => 141307 [~ID] => 141307 [IBLOCK_ID] => 4 [~IBLOCK_ID] => 4 [CODE] => maska-superblesk-dlya-volos-davines-the-circle-chronicles [~CODE] => maska-superblesk-dlya-volos-davines-the-circle-chronicles [XML_ID] => 141307 [~XML_ID] => 141307 [NAME] => Маска-суперблеск для волос, Davines The Circle Chronicles [~NAME] => Маска-суперблеск для волос, Davines The Circle Chronicles [ACTIVE] => Y [~ACTIVE] => Y [DATE_ACTIVE_FROM] => 03.06.2019 23:49:20 [~DATE_ACTIVE_FROM] => 03.06.2019 23:49:20 [DATE_ACTIVE_TO] => [~DATE_ACTIVE_TO] => [SORT] => 500 [~SORT] => 500 [PREVIEW_TEXT] => Для придания волосам чрезвычайно яркого блеска, подчеркивает естественный или косметический цвет. [~PREVIEW_TEXT] => Для придания волосам чрезвычайно яркого блеска, подчеркивает естественный или косметический цвет. [PREVIEW_TEXT_TYPE] => text [~PREVIEW_TEXT_TYPE] => text [DETAIL_TEXT] => Маска сливочно-белого цвета, созданная для придания волосам чрезвычайно яркого блеска, подчеркивает естественный или косметический цвет.

Благодаря прекрасному кондиционирующему эффекту эта маска увлажняет волосы, не утяжеляя их.

The Spotlight Circle без сульфатов и парабенов содержит масло моринги, богатое жирными кислотами, витаминами и белками, которые помогают заметно усилить блеск волос, обеспечивая при этом насыщенное питание.

Кому подойдет эта маска?
Это потрясающий продукт для тусклых и безжизненных волос.

Способ применения:
Нанести на чистые подсушенные полотенцем волосы, оставить на 10 минут, расчесать волосы, тщательно смыть водой.
В случае попадания продукта в глаза тщательно промыть их водой. [~DETAIL_TEXT] => Маска сливочно-белого цвета, созданная для придания волосам чрезвычайно яркого блеска, подчеркивает естественный или косметический цвет.

Благодаря прекрасному кондиционирующему эффекту эта маска увлажняет волосы, не утяжеляя их.

The Spotlight Circle без сульфатов и парабенов содержит масло моринги, богатое жирными кислотами, витаминами и белками, которые помогают заметно усилить блеск волос, обеспечивая при этом насыщенное питание.

Кому подойдет эта маска?
Это потрясающий продукт для тусклых и безжизненных волос.

Способ применения:
Нанести на чистые подсушенные полотенцем волосы, оставить на 10 минут, расчесать волосы, тщательно смыть водой.
В случае попадания продукта в глаза тщательно промыть их водой. [DETAIL_TEXT_TYPE] => html [~DETAIL_TEXT_TYPE] => html [DATE_CREATE] => 03.06.2019 23:52:07 [~DATE_CREATE] => 03.06.2019 23:52:07 [CREATED_BY] => 10 [~CREATED_BY] => 10 [TAGS] => [~TAGS] => [TIMESTAMP_X] => 10.12.2023 14:18:53 [~TIMESTAMP_X] => 10.12.2023 14:18:53 [MODIFIED_BY] => 16358 [~MODIFIED_BY] => 16358 [IBLOCK_SECTION_ID] => 6642 [~IBLOCK_SECTION_ID] => 6642 [DETAIL_PAGE_URL] => /davines-the-circle-chronicles/maska-superblesk-dlya-volos-davines-the-circle-chronicles.html [~DETAIL_PAGE_URL] => /davines-the-circle-chronicles/maska-superblesk-dlya-volos-davines-the-circle-chronicles.html [DETAIL_PICTURE] => Array ( [ID] => 79534 [TIMESTAMP_X] => 10.12.2023 14:18:53 [MODULE_ID] => iblock [HEIGHT] => 518 [WIDTH] => 335 [FILE_SIZE] => 33384 [CONTENT_TYPE] => image/jpeg [SUBDIR] => iblock/bc7 [FILE_NAME] => maska-superblesk-dlya-volos-davines-the-circle-chronicles.jpg [ORIGINAL_NAME] => maska-superblesk-dlya-volos-davines-the-circle-chronicles.jpg [DESCRIPTION] => [HANDLER_ID] => [EXTERNAL_ID] => fe7af4c241f51c4000c697e67604833a [VERSION_ORIGINAL_ID] => [META] => [SRC] => /upload/iblock/bc7/maska-superblesk-dlya-volos-davines-the-circle-chronicles.jpg [UNSAFE_SRC] => /upload/iblock/bc7/maska-superblesk-dlya-volos-davines-the-circle-chronicles.jpg [SAFE_SRC] => /upload/iblock/bc7/maska-superblesk-dlya-volos-davines-the-circle-chronicles.jpg [ALT] => Маска-суперблеск для волос, Davines The Circle Chronicles [TITLE] => Маска-суперблеск для волос, Davines The Circle Chronicles [RESIZE] => Array ( [src] => /upload/iblock/bc7/maska-superblesk-dlya-volos-davines-the-circle-chronicles.jpg [width] => 335 [height] => 518 [size] => 33384 ) ) [~DETAIL_PICTURE] => 79534 [PREVIEW_PICTURE] => Array ( [ID] => 79533 [TIMESTAMP_X] => 10.12.2023 14:18:53 [MODULE_ID] => iblock [HEIGHT] => 518 [WIDTH] => 335 [FILE_SIZE] => 33384 [CONTENT_TYPE] => image/jpeg [SUBDIR] => iblock/796 [FILE_NAME] => maska-superblesk-dlya-volos-davines-the-circle-chronicles.jpg [ORIGINAL_NAME] => maska-superblesk-dlya-volos-davines-the-circle-chronicles.jpg [DESCRIPTION] => [HANDLER_ID] => [EXTERNAL_ID] => b51a5aa82db3660fd8bcfd39c7fe09f2 [VERSION_ORIGINAL_ID] => [META] => [SRC] => /upload/iblock/796/maska-superblesk-dlya-volos-davines-the-circle-chronicles.jpg [UNSAFE_SRC] => /upload/iblock/796/maska-superblesk-dlya-volos-davines-the-circle-chronicles.jpg [SAFE_SRC] => /upload/iblock/796/maska-superblesk-dlya-volos-davines-the-circle-chronicles.jpg [ALT] => Маска-суперблеск для волос, Davines The Circle Chronicles [TITLE] => Маска-суперблеск для волос, Davines The Circle Chronicles ) [~PREVIEW_PICTURE] => 79533 [LIST_PAGE_URL] => / [~LIST_PAGE_URL] => / [CANONICAL_PAGE_URL] => https://karamel-shop.ru/davines-the-circle-chronicles/maska-superblesk-dlya-volos-davines-the-circle-chronicles.html [~CANONICAL_PAGE_URL] => https://karamel-shop.ru/davines-the-circle-chronicles/maska-superblesk-dlya-volos-davines-the-circle-chronicles.html [LANG_DIR] => / [~LANG_DIR] => / [EXTERNAL_ID] => 141307 [~EXTERNAL_ID] => 141307 [IBLOCK_TYPE_ID] => catalog [~IBLOCK_TYPE_ID] => catalog [IBLOCK_CODE] => [~IBLOCK_CODE] => [IBLOCK_EXTERNAL_ID] => [~IBLOCK_EXTERNAL_ID] => [LID] => s1 [~LID] => s1 [ACTIVE_FROM] => 03.06.2019 23:49:20 [ACTIVE_TO] => [IPROPERTY_VALUES] => Array ( [ELEMENT_PAGE_TITLE] => Маска-суперблеск для волос, Davines The Circle Chronicles [SECTION_PICTURE_FILE_ALT] => Маска-суперблеск для волос, Davines The Circle Chronicles The Circle Chronicles [SECTION_PICTURE_FILE_TITLE] => Маска-суперблеск для волос, Davines The Circle Chronicles The Circle Chronicles [SECTION_PICTURE_FILE_NAME] => maska-superblesk-dlya-volos-davines-the-circle-chronicles [SECTION_DETAIL_PICTURE_FILE_ALT] => Маска-суперблеск для волос, Davines The Circle Chronicles The Circle Chronicles [SECTION_DETAIL_PICTURE_FILE_TITLE] => Маска-суперблеск для волос, Davines The Circle Chronicles The Circle Chronicles [SECTION_DETAIL_PICTURE_FILE_NAME] => maska-superblesk-dlya-volos-davines-the-circle-chronicles [ELEMENT_PREVIEW_PICTURE_FILE_NAME] => maska-superblesk-dlya-volos-davines-the-circle-chronicles [ELEMENT_DETAIL_PICTURE_FILE_NAME] => maska-superblesk-dlya-volos-davines-the-circle-chronicles [SECTION_META_TITLE] => Davines The Circle Chronicles Маска-суперблеск для волос, Davines The Circle Chronicles | Купить в официальном магазине [SECTION_META_DESCRIPTION] => Davines The Circle Chronicles Маска-суперблеск для волос, Davines The Circle Chronicles - . Купите с доставкой по всей России или приходите к нам в магазин (Москва). Официальная и оригинальная продукция. [SECTION_PAGE_TITLE] => Маска-суперблеск для волос, Davines The Circle Chronicles [ELEMENT_PREVIEW_PICTURE_FILE_ALT] => Маска-суперблеск для волос, Davines The Circle Chronicles [ELEMENT_PREVIEW_PICTURE_FILE_TITLE] => Маска-суперблеск для волос, Davines The Circle Chronicles [ELEMENT_DETAIL_PICTURE_FILE_ALT] => Маска-суперблеск для волос, Davines The Circle Chronicles [ELEMENT_DETAIL_PICTURE_FILE_TITLE] => Маска-суперблеск для волос, Davines The Circle Chronicles [SECTION_META_KEYWORDS] => davines, the circle chronicles, маска-суперблеск для волос, davines the circle chronicles, купить, интернет, магазин, доставка, самовывоз, москва [ELEMENT_META_KEYWORDS] => маска-суперблеск для волос, davines the circle chronicles, купить, интернет, магазин, москва, отзывы, доставка ) [PRODUCT] => Array ( [TYPE] => 3 [AVAILABLE] => Y [BUNDLE] => N [QUANTITY] => 0 [QUANTITY_TRACE] => N [CAN_BUY_ZERO] => Y [MEASURE] => 5 [SUBSCRIBE] => Y [VAT_ID] => 1 [VAT_RATE] => 0 [VAT_INCLUDED] => N [WEIGHT] => 0 [WIDTH] => 0 [LENGTH] => 0 [HEIGHT] => 0 [PAYMENT_TYPE] => S [RECUR_SCHEME_TYPE] => D [RECUR_SCHEME_LENGTH] => 0 [TRIAL_PRICE_ID] => 0 [USE_OFFERS] => 1 ) [CATALOG_TYPE] => 3 [CATALOG_AVAILABLE] => Y [CATALOG_BUNDLE] => N [CATALOG_QUANTITY] => 2 [CATALOG_QUANTITY_TRACE] => N [CATALOG_CAN_BUY_ZERO] => Y [CATALOG_MEASURE] => 5 [CATALOG_SUBSCRIBE] => Y [CATALOG_VAT_ID] => 1 [CATALOG_VAT_INCLUDED] => N [CATALOG_WEIGHT] => 0 [CATALOG_WIDTH] => [CATALOG_LENGTH] => [CATALOG_HEIGHT] => [CATALOG_PRICE_TYPE] => S [CATALOG_RECUR_SCHEME_LENGTH] => [CATALOG_RECUR_SCHEME_TYPE] => D [CATALOG_QUANTITY_TRACE_ORIG] => N [CATALOG_CAN_BUY_ZERO_ORIG] => Y [CATALOG_SUBSCRIBE_ORIG] => D [CATALOG_PURCHASING_PRICE] => [CATALOG_PURCHASING_CURRENCY] => [CATALOG_BARCODE_MULTI] => N [CATALOG_TRIAL_PRICE_ID] => [CATALOG_WITHOUT_ORDER] => N [~CATALOG_TYPE] => 3 [~CATALOG_AVAILABLE] => Y [~CATALOG_BUNDLE] => N [~CATALOG_QUANTITY] => 0 [~CATALOG_QUANTITY_TRACE] => N [~CATALOG_CAN_BUY_ZERO] => Y [~CATALOG_MEASURE] => 5 [~CATALOG_SUBSCRIBE] => Y [~CATALOG_VAT_ID] => 1 [~CATALOG_VAT_INCLUDED] => N [~CATALOG_WEIGHT] => 0 [~CATALOG_WIDTH] => [~CATALOG_LENGTH] => [~CATALOG_HEIGHT] => [~CATALOG_PRICE_TYPE] => S [~CATALOG_RECUR_SCHEME_LENGTH] => [~CATALOG_RECUR_SCHEME_TYPE] => D [~CATALOG_QUANTITY_TRACE_ORIG] => N [~CATALOG_CAN_BUY_ZERO_ORIG] => Y [~CATALOG_SUBSCRIBE_ORIG] => D [~CATALOG_PURCHASING_PRICE] => [~CATALOG_PURCHASING_CURRENCY] => [~CATALOG_BARCODE_MULTI] => N [~CATALOG_TRIAL_PRICE_ID] => [~CATALOG_WITHOUT_ORDER] => N [~CATALOG_VAT] => 0 [CATALOG_VAT] => 0 [PROPERTIES] => Array ( [VOLUME] => Array ( [ID] => 53 [IBLOCK_ID] => 4 [NAME] => Объём [ACTIVE] => Y [SORT] => 1 [CODE] => VOLUME [DEFAULT_VALUE] => [PROPERTY_TYPE] => S [ROW_COUNT] => 1 [COL_COUNT] => 30 [LIST_TYPE] => L [MULTIPLE] => N [XML_ID] => [FILE_TYPE] => [MULTIPLE_CNT] => 5 [LINK_IBLOCK_ID] => 0 [WITH_DESCRIPTION] => N [SEARCHABLE] => N [FILTRABLE] => Y [IS_REQUIRED] => N [VERSION] => 1 [USER_TYPE] => [USER_TYPE_SETTINGS] => [HINT] => [~NAME] => Объём [~DEFAULT_VALUE] => [VALUE_ENUM] => [VALUE_XML_ID] => [VALUE_SORT] => [VALUE] => [PROPERTY_VALUE_ID] => [DESCRIPTION] => [~DESCRIPTION] => [~VALUE] => ) [BRAND] => Array ( [ID] => 108 [IBLOCK_ID] => 4 [NAME] => Торговая марка [ACTIVE] => Y [SORT] => 2 [CODE] => BRAND [DEFAULT_VALUE] => [PROPERTY_TYPE] => S [ROW_COUNT] => 1 [COL_COUNT] => 30 [LIST_TYPE] => L [MULTIPLE] => N [XML_ID] => [FILE_TYPE] => [MULTIPLE_CNT] => 5 [LINK_IBLOCK_ID] => 0 [WITH_DESCRIPTION] => N [SEARCHABLE] => Y [FILTRABLE] => Y [IS_REQUIRED] => Y [VERSION] => 1 [USER_TYPE] => directory [USER_TYPE_SETTINGS] => Array ( [size] => 1 [width] => 0 [group] => N [multiple] => N [TABLE_NAME] => b_hlbd_cosmeticsbrands ) [HINT] => Торговая марка (Бренд) [~NAME] => Торговая марка [~DEFAULT_VALUE] => [VALUE_ENUM] => [VALUE_XML_ID] => [VALUE_SORT] => [VALUE] => 2H8r2OIH [PROPERTY_VALUE_ID] => 3620574 [DESCRIPTION] => [~VALUE] => 2H8r2OIH [~DESCRIPTION] => ) [TYPE] => Array ( [ID] => 110 [IBLOCK_ID] => 4 [NAME] => Тип товара [ACTIVE] => Y [SORT] => 3 [CODE] => TYPE [DEFAULT_VALUE] => [PROPERTY_TYPE] => S [ROW_COUNT] => 1 [COL_COUNT] => 30 [LIST_TYPE] => L [MULTIPLE] => Y [XML_ID] => [FILE_TYPE] => [MULTIPLE_CNT] => 5 [LINK_IBLOCK_ID] => 0 [WITH_DESCRIPTION] => N [SEARCHABLE] => Y [FILTRABLE] => N [IS_REQUIRED] => Y [VERSION] => 1 [USER_TYPE] => directory [USER_TYPE_SETTINGS] => Array ( [size] => 1 [width] => 0 [group] => N [multiple] => N [TABLE_NAME] => b_hlbd_typeofproduct ) [HINT] => [~NAME] => Тип товара [~DEFAULT_VALUE] => [VALUE_ENUM] => [VALUE_XML_ID] => [VALUE_SORT] => [VALUE] => Array ( [0] => Kb4gb8k3 ) [PROPERTY_VALUE_ID] => Array ( [0] => 3620575 ) [DESCRIPTION] => Array ( [0] => ) [~VALUE] => Array ( [0] => Kb4gb8k3 ) [~DESCRIPTION] => Array ( [0] => ) ) [effect] => Array ( [ID] => 1815 [IBLOCK_ID] => 4 [NAME] => Эффект [ACTIVE] => Y [SORT] => 4 [CODE] => effect [DEFAULT_VALUE] => [PROPERTY_TYPE] => S [ROW_COUNT] => 1 [COL_COUNT] => 30 [LIST_TYPE] => L [MULTIPLE] => Y [XML_ID] => [FILE_TYPE] => [MULTIPLE_CNT] => 5 [LINK_IBLOCK_ID] => 0 [WITH_DESCRIPTION] => N [SEARCHABLE] => Y [FILTRABLE] => Y [IS_REQUIRED] => N [VERSION] => 1 [USER_TYPE] => directory [USER_TYPE_SETTINGS] => Array ( [size] => 1 [width] => 0 [group] => N [multiple] => N [TABLE_NAME] => b_hlbd_effekt ) [HINT] => [~NAME] => Эффект [~DEFAULT_VALUE] => [VALUE_ENUM] => [VALUE_XML_ID] => [VALUE_SORT] => [VALUE] => [PROPERTY_VALUE_ID] => [DESCRIPTION] => [~DESCRIPTION] => [~VALUE] => ) [destination] => Array ( [ID] => 597 [IBLOCK_ID] => 4 [NAME] => Назначение [ACTIVE] => Y [SORT] => 5 [CODE] => destination [DEFAULT_VALUE] => [PROPERTY_TYPE] => L [ROW_COUNT] => 1 [COL_COUNT] => 30 [LIST_TYPE] => C [MULTIPLE] => Y [XML_ID] => [FILE_TYPE] => [MULTIPLE_CNT] => 5 [LINK_IBLOCK_ID] => 0 [WITH_DESCRIPTION] => N [SEARCHABLE] => Y [FILTRABLE] => Y [IS_REQUIRED] => Y [VERSION] => 1 [USER_TYPE] => [USER_TYPE_SETTINGS] => [HINT] => [~NAME] => Назначение [~DEFAULT_VALUE] => [VALUE_ENUM] => Array ( [0] => Волосы ) [VALUE_XML_ID] => Array ( [0] => hair ) [VALUE_SORT] => Array ( [0] => 500 ) [VALUE] => Array ( [0] => Волосы ) [PROPERTY_VALUE_ID] => Array ( [0] => 4104095 ) [VALUE_ENUM_ID] => Array ( [0] => 129 ) [DESCRIPTION] => Array ( [0] => ) [~VALUE] => Array ( [0] => Волосы ) [~DESCRIPTION] => Array ( [0] => ) ) [SPECIAL_OFFER] => Array ( [ID] => 163 [IBLOCK_ID] => 4 [NAME] => Метки [ACTIVE] => Y [SORT] => 6 [CODE] => SPECIAL_OFFER [DEFAULT_VALUE] => [PROPERTY_TYPE] => L [ROW_COUNT] => 1 [COL_COUNT] => 30 [LIST_TYPE] => L [MULTIPLE] => Y [XML_ID] => [FILE_TYPE] => [MULTIPLE_CNT] => 5 [LINK_IBLOCK_ID] => 0 [WITH_DESCRIPTION] => N [SEARCHABLE] => N [FILTRABLE] => Y [IS_REQUIRED] => N [VERSION] => 1 [USER_TYPE] => [USER_TYPE_SETTINGS] => [HINT] => [~NAME] => Метки [~DEFAULT_VALUE] => [VALUE_ENUM] => [VALUE_XML_ID] => [VALUE_SORT] => [VALUE] => [PROPERTY_VALUE_ID] => [DESCRIPTION] => [~DESCRIPTION] => [~VALUE] => [VALUE_ENUM_ID] => ) [PROF_GROUP] => Array ( [ID] => 167 [IBLOCK_ID] => 4 [NAME] => Для профессионалов [ACTIVE] => Y [SORT] => 7 [CODE] => PROF_GROUP [DEFAULT_VALUE] => N [PROPERTY_TYPE] => S [ROW_COUNT] => 1 [COL_COUNT] => 30 [LIST_TYPE] => L [MULTIPLE] => N [XML_ID] => [FILE_TYPE] => [MULTIPLE_CNT] => 5 [LINK_IBLOCK_ID] => 0 [WITH_DESCRIPTION] => N [SEARCHABLE] => N [FILTRABLE] => Y [IS_REQUIRED] => N [VERSION] => 1 [USER_TYPE] => SASDCheckbox [USER_TYPE_SETTINGS] => Array ( [VIEW] => Array ( [N] => N [Y] => Y ) ) [HINT] => [~NAME] => Для профессионалов [~DEFAULT_VALUE] => N [VALUE_ENUM] => [VALUE_XML_ID] => [VALUE_SORT] => [VALUE] => N [PROPERTY_VALUE_ID] => 3977192 [DESCRIPTION] => [~VALUE] => N [~DESCRIPTION] => ) [SALE_EXPORT] => Array ( [ID] => 1813 [IBLOCK_ID] => 4 [NAME] => Распродажа выгрузка [ACTIVE] => Y [SORT] => 8 [CODE] => SALE_EXPORT [DEFAULT_VALUE] => N [PROPERTY_TYPE] => S [ROW_COUNT] => 1 [COL_COUNT] => 30 [LIST_TYPE] => L [MULTIPLE] => N [XML_ID] => [FILE_TYPE] => [MULTIPLE_CNT] => 5 [LINK_IBLOCK_ID] => 0 [WITH_DESCRIPTION] => N [SEARCHABLE] => N [FILTRABLE] => Y [IS_REQUIRED] => N [VERSION] => 1 [USER_TYPE] => SASDCheckbox [USER_TYPE_SETTINGS] => Array ( [VIEW] => Array ( [N] => N [Y] => Y ) ) [HINT] => [~NAME] => Распродажа выгрузка [~DEFAULT_VALUE] => N [VALUE_ENUM] => [VALUE_XML_ID] => [VALUE_SORT] => [VALUE] => N [PROPERTY_VALUE_ID] => 4039437 [DESCRIPTION] => [~VALUE] => N [~DESCRIPTION] => ) [API_REVIEWS_COUNT] => Array ( [ID] => 156 [IBLOCK_ID] => 4 [NAME] => Отзывов [ACTIVE] => Y [SORT] => 550 [CODE] => API_REVIEWS_COUNT [DEFAULT_VALUE] => [PROPERTY_TYPE] => N [ROW_COUNT] => 1 [COL_COUNT] => 30 [LIST_TYPE] => L [MULTIPLE] => N [XML_ID] => [FILE_TYPE] => [MULTIPLE_CNT] => 5 [LINK_IBLOCK_ID] => 0 [WITH_DESCRIPTION] => N [SEARCHABLE] => N [FILTRABLE] => N [IS_REQUIRED] => N [VERSION] => 1 [USER_TYPE] => [USER_TYPE_SETTINGS] => [HINT] => [~NAME] => Отзывов [~DEFAULT_VALUE] => [VALUE_ENUM] => [VALUE_XML_ID] => [VALUE_SORT] => [VALUE] => [PROPERTY_VALUE_ID] => [DESCRIPTION] => [~DESCRIPTION] => [~VALUE] => ) [API_REVIEWS_RATING] => Array ( [ID] => 157 [IBLOCK_ID] => 4 [NAME] => Рейтинг [ACTIVE] => Y [SORT] => 551 [CODE] => API_REVIEWS_RATING [DEFAULT_VALUE] => [PROPERTY_TYPE] => N [ROW_COUNT] => 1 [COL_COUNT] => 30 [LIST_TYPE] => L [MULTIPLE] => N [XML_ID] => [FILE_TYPE] => [MULTIPLE_CNT] => 5 [LINK_IBLOCK_ID] => 0 [WITH_DESCRIPTION] => N [SEARCHABLE] => N [FILTRABLE] => N [IS_REQUIRED] => N [VERSION] => 1 [USER_TYPE] => [USER_TYPE_SETTINGS] => [HINT] => [~NAME] => Рейтинг [~DEFAULT_VALUE] => [VALUE_ENUM] => [VALUE_XML_ID] => [VALUE_SORT] => [VALUE] => [PROPERTY_VALUE_ID] => [DESCRIPTION] => [~DESCRIPTION] => [~VALUE] => ) ) [DISPLAY_PROPERTIES] => Array ( ) [PRODUCT_PROPERTIES] => Array ( ) [PRODUCT_PROPERTIES_FILL] => Array ( ) [OFFERS] => Array ( [0] => Array ( [PRICES] => Array ( [BASE] => Array ( [PRICE_ID] => 1 [ID] => 80617 [CAN_ACCESS] => Y [CAN_BUY] => Y [MIN_PRICE] => Y [CURRENCY] => RUB [VALUE_VAT] => 1220 [VALUE_NOVAT] => 1220 [DISCOUNT_VALUE_VAT] => 1037 [DISCOUNT_VALUE_NOVAT] => 1037 [ROUND_VALUE_VAT] => 1037 [ROUND_VALUE_NOVAT] => 1037 [VALUE] => 1220 [UNROUND_DISCOUNT_VALUE] => 1037 [DISCOUNT_VALUE] => 1037 [DISCOUNT_DIFF] => 183 [DISCOUNT_DIFF_PERCENT] => 15 [VATRATE_VALUE] => 0 [DISCOUNT_VATRATE_VALUE] => 0 [ROUND_VATRATE_VALUE] => 0 [PRINT_VALUE_NOVAT] => 1 220 ₽ [PRINT_VALUE_VAT] => 1 220 ₽ [PRINT_VATRATE_VALUE] => 0 ₽ [PRINT_DISCOUNT_VALUE_NOVAT] => 1 037 ₽ [PRINT_DISCOUNT_VALUE_VAT] => 1 037 ₽ [PRINT_DISCOUNT_VATRATE_VALUE] => 0 ₽ [PRINT_VALUE] => 1 220 ₽ [PRINT_DISCOUNT_VALUE] => 1 037 ₽ [PRINT_DISCOUNT_DIFF] => 183 ₽ ) ) [PRICE_MATRIX] => [MIN_PRICE] => Array ( [PRICE_ID] => 1 [ID] => 80617 [CAN_ACCESS] => Y [CAN_BUY] => Y [MIN_PRICE] => Y [CURRENCY] => RUB [VALUE_VAT] => 1220 [VALUE_NOVAT] => 1220 [DISCOUNT_VALUE_VAT] => 1037 [DISCOUNT_VALUE_NOVAT] => 1037 [ROUND_VALUE_VAT] => 1037 [ROUND_VALUE_NOVAT] => 1037 [VALUE] => 1220 [UNROUND_DISCOUNT_VALUE] => 1037 [DISCOUNT_VALUE] => 1037 [DISCOUNT_DIFF] => 183 [DISCOUNT_DIFF_PERCENT] => 15 [VATRATE_VALUE] => 0 [DISCOUNT_VATRATE_VALUE] => 0 [ROUND_VATRATE_VALUE] => 0 [PRINT_VALUE_NOVAT] => 1 220 ₽ [PRINT_VALUE_VAT] => 1 220 ₽ [PRINT_VATRATE_VALUE] => 0 ₽ [PRINT_DISCOUNT_VALUE_NOVAT] => 1 037 ₽ [PRINT_DISCOUNT_VALUE_VAT] => 1 037 ₽ [PRINT_DISCOUNT_VATRATE_VALUE] => 0 ₽ [PRINT_VALUE] => 1 220 ₽ [PRINT_DISCOUNT_VALUE] => 1 037 ₽ [PRINT_DISCOUNT_DIFF] => 183 ₽ ) [CATALOG_GROUP_ID_1] => 1 [~CATALOG_GROUP_ID_1] => 1 [CATALOG_GROUP_NAME_1] => Розничная цена [~CATALOG_GROUP_NAME_1] => Розничная цена [CATALOG_CAN_ACCESS_1] => Y [~CATALOG_CAN_ACCESS_1] => Y [CATALOG_CAN_BUY_1] => Y [~CATALOG_CAN_BUY_1] => Y [CATALOG_PRICE_ID_1] => 80617 [~CATALOG_PRICE_ID_1] => 80617 [CATALOG_PRICE_1] => 1220.00 [~CATALOG_PRICE_1] => 1220.00 [CATALOG_CURRENCY_1] => RUB [~CATALOG_CURRENCY_1] => RUB [CATALOG_QUANTITY_FROM_1] => [~CATALOG_QUANTITY_FROM_1] => [CATALOG_QUANTITY_TO_1] => [~CATALOG_QUANTITY_TO_1] => [CATALOG_EXTRA_ID_1] => [~CATALOG_EXTRA_ID_1] => [ID] => 141308 [~ID] => 141308 [IBLOCK_ID] => 3 [~IBLOCK_ID] => 3 [CODE] => maska_superblesk_dlya_volos_50ml_davines_the_circle_chronicles [~CODE] => maska_superblesk_dlya_volos_50ml_davines_the_circle_chronicles [PROPERTY_65_VALUE] => 141307 [~PROPERTY_65_VALUE] => 141307 [PROPERTY_65_VALUE_ID] => 3620578 [~PROPERTY_65_VALUE_ID] => 3620578 [PREVIEW_PICTURE] => [~PREVIEW_PICTURE] => [DETAIL_PICTURE] => [~DETAIL_PICTURE] => [SORT] => 500 [~SORT] => 500 [SORT_HASH] => 55a05e0c64b1da4d5b3b5ae83ebd371e [LINK_ELEMENT_ID] => 141307 [PROPERTIES] => Array ( [VOLUME] => Array ( [ID] => 59 [IBLOCK_ID] => 3 [NAME] => Объём [ACTIVE] => Y [SORT] => 100 [CODE] => VOLUME [DEFAULT_VALUE] => [PROPERTY_TYPE] => S [ROW_COUNT] => 1 [COL_COUNT] => 30 [LIST_TYPE] => L [MULTIPLE] => N [XML_ID] => [FILE_TYPE] => [MULTIPLE_CNT] => 5 [LINK_IBLOCK_ID] => 0 [WITH_DESCRIPTION] => N [SEARCHABLE] => N [FILTRABLE] => Y [IS_REQUIRED] => N [VERSION] => 1 [USER_TYPE] => [USER_TYPE_SETTINGS] => [HINT] => [~NAME] => Объём [~DEFAULT_VALUE] => [VALUE_ENUM] => [VALUE_XML_ID] => [VALUE_SORT] => [VALUE] => 50мл [PROPERTY_VALUE_ID] => 3620577 [DESCRIPTION] => [~VALUE] => 50мл [~DESCRIPTION] => ) [MORE_PHOTO] => Array ( [ID] => 36 [IBLOCK_ID] => 3 [NAME] => Картинки [ACTIVE] => Y [SORT] => 300 [CODE] => MORE_PHOTO [DEFAULT_VALUE] => [PROPERTY_TYPE] => F [ROW_COUNT] => 1 [COL_COUNT] => 60 [LIST_TYPE] => L [MULTIPLE] => Y [XML_ID] => 39 [FILE_TYPE] => jpg, gif, bmp, png, jpeg [MULTIPLE_CNT] => 5 [LINK_IBLOCK_ID] => 0 [WITH_DESCRIPTION] => N [SEARCHABLE] => N [FILTRABLE] => N [IS_REQUIRED] => N [VERSION] => 1 [USER_TYPE] => [USER_TYPE_SETTINGS] => [HINT] => [~NAME] => Картинки [~DEFAULT_VALUE] => [VALUE_ENUM] => [VALUE_XML_ID] => [VALUE_SORT] => [VALUE] => [PROPERTY_VALUE_ID] => [DESCRIPTION] => [~DESCRIPTION] => [~VALUE] => ) [CML2_LINK] => Array ( [ID] => 65 [IBLOCK_ID] => 3 [NAME] => Элемент каталога [ACTIVE] => Y [SORT] => 500 [CODE] => CML2_LINK [DEFAULT_VALUE] => [PROPERTY_TYPE] => E [ROW_COUNT] => 1 [COL_COUNT] => 30 [LIST_TYPE] => L [MULTIPLE] => N [XML_ID] => CML2_LINK [FILE_TYPE] => [MULTIPLE_CNT] => 5 [LINK_IBLOCK_ID] => 4 [WITH_DESCRIPTION] => N [SEARCHABLE] => N [FILTRABLE] => N [IS_REQUIRED] => N [VERSION] => 1 [USER_TYPE] => SKU [USER_TYPE_SETTINGS] => Array ( [VIEW] => A [SHOW_ADD] => N [MAX_WIDTH] => 0 [MIN_HEIGHT] => 24 [MAX_HEIGHT] => 1000 [BAN_SYM] => ,; [REP_SYM] => [OTHER_REP_SYM] => [IBLOCK_MESS] => N ) [HINT] => [~NAME] => Элемент каталога [~DEFAULT_VALUE] => [VALUE_ENUM] => [VALUE_XML_ID] => [VALUE_SORT] => [VALUE] => 141307 [PROPERTY_VALUE_ID] => 3620578 [DESCRIPTION] => [~VALUE] => 141307 [~DESCRIPTION] => ) ) [DISPLAY_PROPERTIES] => Array ( ) [PRODUCT] => Array ( [TYPE] => 4 [AVAILABLE] => Y [BUNDLE] => N [QUANTITY] => 99986 [QUANTITY_TRACE] => Y [CAN_BUY_ZERO] => N [MEASURE] => 5 [SUBSCRIBE] => Y [VAT_ID] => 1 [VAT_RATE] => 0 [VAT_INCLUDED] => N [WEIGHT] => 0 [WIDTH] => 0 [LENGTH] => 0 [HEIGHT] => 0 [PAYMENT_TYPE] => S [RECUR_SCHEME_TYPE] => D [RECUR_SCHEME_LENGTH] => 0 [TRIAL_PRICE_ID] => 0 ) [CATALOG_TYPE] => 4 [CATALOG_AVAILABLE] => Y [CATALOG_BUNDLE] => N [CATALOG_QUANTITY] => 99986 [CATALOG_QUANTITY_TRACE] => Y [CATALOG_CAN_BUY_ZERO] => N [CATALOG_MEASURE] => 5 [CATALOG_SUBSCRIBE] => Y [CATALOG_VAT_ID] => 1 [CATALOG_VAT_INCLUDED] => N [CATALOG_WEIGHT] => 0 [CATALOG_WIDTH] => [CATALOG_LENGTH] => [CATALOG_HEIGHT] => [CATALOG_PRICE_TYPE] => S [CATALOG_RECUR_SCHEME_LENGTH] => [CATALOG_RECUR_SCHEME_TYPE] => D [CATALOG_QUANTITY_TRACE_ORIG] => D [CATALOG_CAN_BUY_ZERO_ORIG] => D [CATALOG_SUBSCRIBE_ORIG] => D [CATALOG_PURCHASING_PRICE] => [CATALOG_PURCHASING_CURRENCY] => [CATALOG_BARCODE_MULTI] => N [CATALOG_TRIAL_PRICE_ID] => [CATALOG_WITHOUT_ORDER] => N [~CATALOG_TYPE] => 4 [~CATALOG_AVAILABLE] => Y [~CATALOG_BUNDLE] => N [~CATALOG_QUANTITY] => 99986 [~CATALOG_QUANTITY_TRACE] => Y [~CATALOG_CAN_BUY_ZERO] => N [~CATALOG_MEASURE] => 5 [~CATALOG_SUBSCRIBE] => Y [~CATALOG_VAT_ID] => 1 [~CATALOG_VAT_INCLUDED] => N [~CATALOG_WEIGHT] => 0 [~CATALOG_WIDTH] => [~CATALOG_LENGTH] => [~CATALOG_HEIGHT] => [~CATALOG_PRICE_TYPE] => S [~CATALOG_RECUR_SCHEME_LENGTH] => [~CATALOG_RECUR_SCHEME_TYPE] => D [~CATALOG_QUANTITY_TRACE_ORIG] => D [~CATALOG_CAN_BUY_ZERO_ORIG] => D [~CATALOG_SUBSCRIBE_ORIG] => D [~CATALOG_PURCHASING_PRICE] => [~CATALOG_PURCHASING_CURRENCY] => [~CATALOG_BARCODE_MULTI] => N [~CATALOG_TRIAL_PRICE_ID] => [~CATALOG_WITHOUT_ORDER] => N [~CATALOG_VAT] => 0 [CATALOG_VAT] => 0 [ITEM_PRICE_MODE] => S [ITEM_PRICES] => Array ( [0] => Array ( [UNROUND_BASE_PRICE] => 1220 [UNROUND_PRICE] => 1037 [BASE_PRICE] => 1220 [PRICE] => 1037 [ID] => 80617 [PRICE_TYPE_ID] => 1 [CURRENCY] => RUB [DISCOUNT] => 183 [PERCENT] => 15 [QUANTITY_FROM] => [QUANTITY_TO] => [QUANTITY_HASH] => ZERO-INF [MEASURE_RATIO_ID] => [PRINT_BASE_PRICE] => 1 220 ₽ [RATIO_BASE_PRICE] => 1220 [PRINT_RATIO_BASE_PRICE] => 1 220 ₽ [PRINT_PRICE] => 1 037 ₽ [RATIO_PRICE] => 1037 [PRINT_RATIO_PRICE] => 1 037 ₽ [PRINT_DISCOUNT] => 183 ₽ [RATIO_DISCOUNT] => 183 [PRINT_RATIO_DISCOUNT] => 183 ₽ [MIN_QUANTITY] => 1 ) ) [ITEM_QUANTITY_RANGES] => Array ( [ZERO-INF] => Array ( [HASH] => ZERO-INF [QUANTITY_FROM] => [QUANTITY_TO] => [SORT_FROM] => 0 [SORT_TO] => INF ) ) [ITEM_MEASURE_RATIOS] => Array ( [10578] => Array ( [ID] => 10578 [RATIO] => 1 [IS_DEFAULT] => Y [PRODUCT_ID] => 141308 ) ) [ITEM_MEASURE] => Array ( [ID] => 5 [TITLE] => шт [~TITLE] => шт ) [ITEM_MEASURE_RATIO_SELECTED] => 10578 [ITEM_QUANTITY_RANGE_SELECTED] => ZERO-INF [ITEM_PRICE_SELECTED] => 0 [CHECK_QUANTITY] => 1 [CATALOG_MEASURE_NAME] => шт [~CATALOG_MEASURE_NAME] => шт [CAN_BUY] => 1 [ITEM_PRICES_CAN_BUY] => 1 [~BUY_URL] => /davines-the-circle-chronicles/maska-superblesk-dlya-volos-davines-the-circle-chronicles.html?action=BUY&id=141308 [BUY_URL] => /davines-the-circle-chronicles/maska-superblesk-dlya-volos-davines-the-circle-chronicles.html?action=BUY&id=141308 [~ADD_URL] => /davines-the-circle-chronicles/maska-superblesk-dlya-volos-davines-the-circle-chronicles.html?action=ADD2BASKET&id=141308 [ADD_URL] => /davines-the-circle-chronicles/maska-superblesk-dlya-volos-davines-the-circle-chronicles.html?action=ADD2BASKET&id=141308 [~SUBSCRIBE_URL] => /davines-the-circle-chronicles/maska-superblesk-dlya-volos-davines-the-circle-chronicles.html?action=SUBSCRIBE_PRODUCT&id=141308 [SUBSCRIBE_URL] => /davines-the-circle-chronicles/maska-superblesk-dlya-volos-davines-the-circle-chronicles.html?action=SUBSCRIBE_PRODUCT&id=141308 [CATALOG_MEASURE_RATIO] => 1 ) [1] => Array ( [PRICES] => Array ( [BASE] => Array ( [PRICE_ID] => 1 [ID] => 80619 [CAN_ACCESS] => Y [CAN_BUY] => Y [MIN_PRICE] => Y [CURRENCY] => RUB [VALUE_VAT] => 5900 [VALUE_NOVAT] => 5900 [DISCOUNT_VALUE_VAT] => 5015 [DISCOUNT_VALUE_NOVAT] => 5015 [ROUND_VALUE_VAT] => 5015 [ROUND_VALUE_NOVAT] => 5015 [VALUE] => 5900 [UNROUND_DISCOUNT_VALUE] => 5015 [DISCOUNT_VALUE] => 5015 [DISCOUNT_DIFF] => 885 [DISCOUNT_DIFF_PERCENT] => 15 [VATRATE_VALUE] => 0 [DISCOUNT_VATRATE_VALUE] => 0 [ROUND_VATRATE_VALUE] => 0 [PRINT_VALUE_NOVAT] => 5 900 ₽ [PRINT_VALUE_VAT] => 5 900 ₽ [PRINT_VATRATE_VALUE] => 0 ₽ [PRINT_DISCOUNT_VALUE_NOVAT] => 5 015 ₽ [PRINT_DISCOUNT_VALUE_VAT] => 5 015 ₽ [PRINT_DISCOUNT_VATRATE_VALUE] => 0 ₽ [PRINT_VALUE] => 5 900 ₽ [PRINT_DISCOUNT_VALUE] => 5 015 ₽ [PRINT_DISCOUNT_DIFF] => 885 ₽ ) ) [PRICE_MATRIX] => [MIN_PRICE] => Array ( [PRICE_ID] => 1 [ID] => 80619 [CAN_ACCESS] => Y [CAN_BUY] => Y [MIN_PRICE] => Y [CURRENCY] => RUB [VALUE_VAT] => 5900 [VALUE_NOVAT] => 5900 [DISCOUNT_VALUE_VAT] => 5015 [DISCOUNT_VALUE_NOVAT] => 5015 [ROUND_VALUE_VAT] => 5015 [ROUND_VALUE_NOVAT] => 5015 [VALUE] => 5900 [UNROUND_DISCOUNT_VALUE] => 5015 [DISCOUNT_VALUE] => 5015 [DISCOUNT_DIFF] => 885 [DISCOUNT_DIFF_PERCENT] => 15 [VATRATE_VALUE] => 0 [DISCOUNT_VATRATE_VALUE] => 0 [ROUND_VATRATE_VALUE] => 0 [PRINT_VALUE_NOVAT] => 5 900 ₽ [PRINT_VALUE_VAT] => 5 900 ₽ [PRINT_VATRATE_VALUE] => 0 ₽ [PRINT_DISCOUNT_VALUE_NOVAT] => 5 015 ₽ [PRINT_DISCOUNT_VALUE_VAT] => 5 015 ₽ [PRINT_DISCOUNT_VATRATE_VALUE] => 0 ₽ [PRINT_VALUE] => 5 900 ₽ [PRINT_DISCOUNT_VALUE] => 5 015 ₽ [PRINT_DISCOUNT_DIFF] => 885 ₽ ) [CATALOG_GROUP_ID_1] => 1 [~CATALOG_GROUP_ID_1] => 1 [CATALOG_GROUP_NAME_1] => Розничная цена [~CATALOG_GROUP_NAME_1] => Розничная цена [CATALOG_CAN_ACCESS_1] => Y [~CATALOG_CAN_ACCESS_1] => Y [CATALOG_CAN_BUY_1] => Y [~CATALOG_CAN_BUY_1] => Y [CATALOG_PRICE_ID_1] => 80619 [~CATALOG_PRICE_ID_1] => 80619 [CATALOG_PRICE_1] => 5900.00 [~CATALOG_PRICE_1] => 5900.00 [CATALOG_CURRENCY_1] => RUB [~CATALOG_CURRENCY_1] => RUB [CATALOG_QUANTITY_FROM_1] => [~CATALOG_QUANTITY_FROM_1] => [CATALOG_QUANTITY_TO_1] => [~CATALOG_QUANTITY_TO_1] => [CATALOG_EXTRA_ID_1] => [~CATALOG_EXTRA_ID_1] => [ID] => 141309 [~ID] => 141309 [IBLOCK_ID] => 3 [~IBLOCK_ID] => 3 [CODE] => maska_superblesk_dlya_volos_6sht_kh_50ml_davines_the_circle_chronicles [~CODE] => maska_superblesk_dlya_volos_6sht_kh_50ml_davines_the_circle_chronicles [PROPERTY_65_VALUE] => 141307 [~PROPERTY_65_VALUE] => 141307 [PROPERTY_65_VALUE_ID] => 3620581 [~PROPERTY_65_VALUE_ID] => 3620581 [PREVIEW_PICTURE] => [~PREVIEW_PICTURE] => [DETAIL_PICTURE] => [~DETAIL_PICTURE] => [SORT] => 501 [~SORT] => 501 [SORT_HASH] => 0cad7f1efd6a51d30f404b51237fab09 [LINK_ELEMENT_ID] => 141307 [PROPERTIES] => Array ( [VOLUME] => Array ( [ID] => 59 [IBLOCK_ID] => 3 [NAME] => Объём [ACTIVE] => Y [SORT] => 100 [CODE] => VOLUME [DEFAULT_VALUE] => [PROPERTY_TYPE] => S [ROW_COUNT] => 1 [COL_COUNT] => 30 [LIST_TYPE] => L [MULTIPLE] => N [XML_ID] => [FILE_TYPE] => [MULTIPLE_CNT] => 5 [LINK_IBLOCK_ID] => 0 [WITH_DESCRIPTION] => N [SEARCHABLE] => N [FILTRABLE] => Y [IS_REQUIRED] => N [VERSION] => 1 [USER_TYPE] => [USER_TYPE_SETTINGS] => [HINT] => [~NAME] => Объём [~DEFAULT_VALUE] => [VALUE_ENUM] => [VALUE_XML_ID] => [VALUE_SORT] => [VALUE] => 6шт х 50мл [PROPERTY_VALUE_ID] => 3620580 [DESCRIPTION] => [~VALUE] => 6шт х 50мл [~DESCRIPTION] => ) [MORE_PHOTO] => Array ( [ID] => 36 [IBLOCK_ID] => 3 [NAME] => Картинки [ACTIVE] => Y [SORT] => 300 [CODE] => MORE_PHOTO [DEFAULT_VALUE] => [PROPERTY_TYPE] => F [ROW_COUNT] => 1 [COL_COUNT] => 60 [LIST_TYPE] => L [MULTIPLE] => Y [XML_ID] => 39 [FILE_TYPE] => jpg, gif, bmp, png, jpeg [MULTIPLE_CNT] => 5 [LINK_IBLOCK_ID] => 0 [WITH_DESCRIPTION] => N [SEARCHABLE] => N [FILTRABLE] => N [IS_REQUIRED] => N [VERSION] => 1 [USER_TYPE] => [USER_TYPE_SETTINGS] => [HINT] => [~NAME] => Картинки [~DEFAULT_VALUE] => [VALUE_ENUM] => [VALUE_XML_ID] => [VALUE_SORT] => [VALUE] => [PROPERTY_VALUE_ID] => [DESCRIPTION] => [~DESCRIPTION] => [~VALUE] => ) [CML2_LINK] => Array ( [ID] => 65 [IBLOCK_ID] => 3 [NAME] => Элемент каталога [ACTIVE] => Y [SORT] => 500 [CODE] => CML2_LINK [DEFAULT_VALUE] => [PROPERTY_TYPE] => E [ROW_COUNT] => 1 [COL_COUNT] => 30 [LIST_TYPE] => L [MULTIPLE] => N [XML_ID] => CML2_LINK [FILE_TYPE] => [MULTIPLE_CNT] => 5 [LINK_IBLOCK_ID] => 4 [WITH_DESCRIPTION] => N [SEARCHABLE] => N [FILTRABLE] => N [IS_REQUIRED] => N [VERSION] => 1 [USER_TYPE] => SKU [USER_TYPE_SETTINGS] => Array ( [VIEW] => A [SHOW_ADD] => N [MAX_WIDTH] => 0 [MIN_HEIGHT] => 24 [MAX_HEIGHT] => 1000 [BAN_SYM] => ,; [REP_SYM] => [OTHER_REP_SYM] => [IBLOCK_MESS] => N ) [HINT] => [~NAME] => Элемент каталога [~DEFAULT_VALUE] => [VALUE_ENUM] => [VALUE_XML_ID] => [VALUE_SORT] => [VALUE] => 141307 [PROPERTY_VALUE_ID] => 3620581 [DESCRIPTION] => [~VALUE] => 141307 [~DESCRIPTION] => ) ) [DISPLAY_PROPERTIES] => Array ( ) [PRODUCT] => Array ( [TYPE] => 4 [AVAILABLE] => Y [BUNDLE] => N [QUANTITY] => 2 [QUANTITY_TRACE] => Y [CAN_BUY_ZERO] => N [MEASURE] => 5 [SUBSCRIBE] => Y [VAT_ID] => 1 [VAT_RATE] => 0 [VAT_INCLUDED] => N [WEIGHT] => 0 [WIDTH] => 0 [LENGTH] => 0 [HEIGHT] => 0 [PAYMENT_TYPE] => S [RECUR_SCHEME_TYPE] => D [RECUR_SCHEME_LENGTH] => 0 [TRIAL_PRICE_ID] => 0 ) [CATALOG_TYPE] => 4 [CATALOG_AVAILABLE] => Y [CATALOG_BUNDLE] => N [CATALOG_QUANTITY] => 2 [CATALOG_QUANTITY_TRACE] => Y [CATALOG_CAN_BUY_ZERO] => N [CATALOG_MEASURE] => 5 [CATALOG_SUBSCRIBE] => Y [CATALOG_VAT_ID] => 1 [CATALOG_VAT_INCLUDED] => N [CATALOG_WEIGHT] => 0 [CATALOG_WIDTH] => [CATALOG_LENGTH] => [CATALOG_HEIGHT] => [CATALOG_PRICE_TYPE] => S [CATALOG_RECUR_SCHEME_LENGTH] => [CATALOG_RECUR_SCHEME_TYPE] => D [CATALOG_QUANTITY_TRACE_ORIG] => D [CATALOG_CAN_BUY_ZERO_ORIG] => D [CATALOG_SUBSCRIBE_ORIG] => D [CATALOG_PURCHASING_PRICE] => [CATALOG_PURCHASING_CURRENCY] => [CATALOG_BARCODE_MULTI] => N [CATALOG_TRIAL_PRICE_ID] => [CATALOG_WITHOUT_ORDER] => N [~CATALOG_TYPE] => 4 [~CATALOG_AVAILABLE] => Y [~CATALOG_BUNDLE] => N [~CATALOG_QUANTITY] => 2 [~CATALOG_QUANTITY_TRACE] => Y [~CATALOG_CAN_BUY_ZERO] => N [~CATALOG_MEASURE] => 5 [~CATALOG_SUBSCRIBE] => Y [~CATALOG_VAT_ID] => 1 [~CATALOG_VAT_INCLUDED] => N [~CATALOG_WEIGHT] => 0 [~CATALOG_WIDTH] => [~CATALOG_LENGTH] => [~CATALOG_HEIGHT] => [~CATALOG_PRICE_TYPE] => S [~CATALOG_RECUR_SCHEME_LENGTH] => [~CATALOG_RECUR_SCHEME_TYPE] => D [~CATALOG_QUANTITY_TRACE_ORIG] => D [~CATALOG_CAN_BUY_ZERO_ORIG] => D [~CATALOG_SUBSCRIBE_ORIG] => D [~CATALOG_PURCHASING_PRICE] => [~CATALOG_PURCHASING_CURRENCY] => [~CATALOG_BARCODE_MULTI] => N [~CATALOG_TRIAL_PRICE_ID] => [~CATALOG_WITHOUT_ORDER] => N [~CATALOG_VAT] => 0 [CATALOG_VAT] => 0 [ITEM_PRICE_MODE] => S [ITEM_PRICES] => Array ( [0] => Array ( [UNROUND_BASE_PRICE] => 5900 [UNROUND_PRICE] => 5015 [BASE_PRICE] => 5900 [PRICE] => 5015 [ID] => 80619 [PRICE_TYPE_ID] => 1 [CURRENCY] => RUB [DISCOUNT] => 885 [PERCENT] => 15 [QUANTITY_FROM] => [QUANTITY_TO] => [QUANTITY_HASH] => ZERO-INF [MEASURE_RATIO_ID] => [PRINT_BASE_PRICE] => 5 900 ₽ [RATIO_BASE_PRICE] => 5900 [PRINT_RATIO_BASE_PRICE] => 5 900 ₽ [PRINT_PRICE] => 5 015 ₽ [RATIO_PRICE] => 5015 [PRINT_RATIO_PRICE] => 5 015 ₽ [PRINT_DISCOUNT] => 885 ₽ [RATIO_DISCOUNT] => 885 [PRINT_RATIO_DISCOUNT] => 885 ₽ [MIN_QUANTITY] => 1 ) ) [ITEM_QUANTITY_RANGES] => Array ( [ZERO-INF] => Array ( [HASH] => ZERO-INF [QUANTITY_FROM] => [QUANTITY_TO] => [SORT_FROM] => 0 [SORT_TO] => INF ) ) [ITEM_MEASURE_RATIOS] => Array ( [10579] => Array ( [ID] => 10579 [RATIO] => 1 [IS_DEFAULT] => Y [PRODUCT_ID] => 141309 ) ) [ITEM_MEASURE] => Array ( [ID] => 5 [TITLE] => шт [~TITLE] => шт ) [ITEM_MEASURE_RATIO_SELECTED] => 10579 [ITEM_QUANTITY_RANGE_SELECTED] => ZERO-INF [ITEM_PRICE_SELECTED] => 0 [CHECK_QUANTITY] => 1 [CATALOG_MEASURE_NAME] => шт [~CATALOG_MEASURE_NAME] => шт [CAN_BUY] => 1 [ITEM_PRICES_CAN_BUY] => 1 [~BUY_URL] => /davines-the-circle-chronicles/maska-superblesk-dlya-volos-davines-the-circle-chronicles.html?action=BUY&id=141309 [BUY_URL] => /davines-the-circle-chronicles/maska-superblesk-dlya-volos-davines-the-circle-chronicles.html?action=BUY&id=141309 [~ADD_URL] => /davines-the-circle-chronicles/maska-superblesk-dlya-volos-davines-the-circle-chronicles.html?action=ADD2BASKET&id=141309 [ADD_URL] => /davines-the-circle-chronicles/maska-superblesk-dlya-volos-davines-the-circle-chronicles.html?action=ADD2BASKET&id=141309 [~SUBSCRIBE_URL] => /davines-the-circle-chronicles/maska-superblesk-dlya-volos-davines-the-circle-chronicles.html?action=SUBSCRIBE_PRODUCT&id=141309 [SUBSCRIBE_URL] => /davines-the-circle-chronicles/maska-superblesk-dlya-volos-davines-the-circle-chronicles.html?action=SUBSCRIBE_PRODUCT&id=141309 [CATALOG_MEASURE_RATIO] => 1 ) [2] => Array ( [PRICES] => Array ( ) [PRICE_MATRIX] => [MIN_PRICE] => [CATALOG_GROUP_ID_1] => 1 [~CATALOG_GROUP_ID_1] => 1 [CATALOG_GROUP_NAME_1] => Розничная цена [~CATALOG_GROUP_NAME_1] => Розничная цена [CATALOG_CAN_ACCESS_1] => Y [~CATALOG_CAN_ACCESS_1] => Y [CATALOG_CAN_BUY_1] => Y [~CATALOG_CAN_BUY_1] => Y [CATALOG_PRICE_ID_1] => [~CATALOG_PRICE_ID_1] => [CATALOG_PRICE_1] => [~CATALOG_PRICE_1] => [CATALOG_CURRENCY_1] => [~CATALOG_CURRENCY_1] => [CATALOG_QUANTITY_FROM_1] => [~CATALOG_QUANTITY_FROM_1] => [CATALOG_QUANTITY_TO_1] => [~CATALOG_QUANTITY_TO_1] => [CATALOG_EXTRA_ID_1] => [~CATALOG_EXTRA_ID_1] => [ID] => 203075 [~ID] => 203075 [IBLOCK_ID] => 3 [~IBLOCK_ID] => 3 [CODE] => maska_superblesk_dlya_volos_davines_the_circle_chronicles [~CODE] => maska_superblesk_dlya_volos_davines_the_circle_chronicles [PROPERTY_65_VALUE] => 141307 [~PROPERTY_65_VALUE] => 141307 [PROPERTY_65_VALUE_ID] => 4104094 [~PROPERTY_65_VALUE_ID] => 4104094 [PREVIEW_PICTURE] => [~PREVIEW_PICTURE] => [DETAIL_PICTURE] => [~DETAIL_PICTURE] => [SORT] => 502 [~SORT] => 502 [SORT_HASH] => 50ad4d5ef16200f538a80c50ce4d3dc8 [LINK_ELEMENT_ID] => 141307 [PROPERTIES] => Array ( [VOLUME] => Array ( [ID] => 59 [IBLOCK_ID] => 3 [NAME] => Объём [ACTIVE] => Y [SORT] => 100 [CODE] => VOLUME [DEFAULT_VALUE] => [PROPERTY_TYPE] => S [ROW_COUNT] => 1 [COL_COUNT] => 30 [LIST_TYPE] => L [MULTIPLE] => N [XML_ID] => [FILE_TYPE] => [MULTIPLE_CNT] => 5 [LINK_IBLOCK_ID] => 0 [WITH_DESCRIPTION] => N [SEARCHABLE] => N [FILTRABLE] => Y [IS_REQUIRED] => N [VERSION] => 1 [USER_TYPE] => [USER_TYPE_SETTINGS] => [HINT] => [~NAME] => Объём [~DEFAULT_VALUE] => [VALUE_ENUM] => [VALUE_XML_ID] => [VALUE_SORT] => [VALUE] => 750мл [PROPERTY_VALUE_ID] => 4104093 [DESCRIPTION] => [~VALUE] => 750мл [~DESCRIPTION] => ) [MORE_PHOTO] => Array ( [ID] => 36 [IBLOCK_ID] => 3 [NAME] => Картинки [ACTIVE] => Y [SORT] => 300 [CODE] => MORE_PHOTO [DEFAULT_VALUE] => [PROPERTY_TYPE] => F [ROW_COUNT] => 1 [COL_COUNT] => 60 [LIST_TYPE] => L [MULTIPLE] => Y [XML_ID] => 39 [FILE_TYPE] => jpg, gif, bmp, png, jpeg [MULTIPLE_CNT] => 5 [LINK_IBLOCK_ID] => 0 [WITH_DESCRIPTION] => N [SEARCHABLE] => N [FILTRABLE] => N [IS_REQUIRED] => N [VERSION] => 1 [USER_TYPE] => [USER_TYPE_SETTINGS] => [HINT] => [~NAME] => Картинки [~DEFAULT_VALUE] => [VALUE_ENUM] => [VALUE_XML_ID] => [VALUE_SORT] => [VALUE] => [PROPERTY_VALUE_ID] => [DESCRIPTION] => [~DESCRIPTION] => [~VALUE] => ) [CML2_LINK] => Array ( [ID] => 65 [IBLOCK_ID] => 3 [NAME] => Элемент каталога [ACTIVE] => Y [SORT] => 500 [CODE] => CML2_LINK [DEFAULT_VALUE] => [PROPERTY_TYPE] => E [ROW_COUNT] => 1 [COL_COUNT] => 30 [LIST_TYPE] => L [MULTIPLE] => N [XML_ID] => CML2_LINK [FILE_TYPE] => [MULTIPLE_CNT] => 5 [LINK_IBLOCK_ID] => 4 [WITH_DESCRIPTION] => N [SEARCHABLE] => N [FILTRABLE] => N [IS_REQUIRED] => N [VERSION] => 1 [USER_TYPE] => SKU [USER_TYPE_SETTINGS] => Array ( [VIEW] => A [SHOW_ADD] => N [MAX_WIDTH] => 0 [MIN_HEIGHT] => 24 [MAX_HEIGHT] => 1000 [BAN_SYM] => ,; [REP_SYM] => [OTHER_REP_SYM] => [IBLOCK_MESS] => N ) [HINT] => [~NAME] => Элемент каталога [~DEFAULT_VALUE] => [VALUE_ENUM] => [VALUE_XML_ID] => [VALUE_SORT] => [VALUE] => 141307 [PROPERTY_VALUE_ID] => 4104094 [DESCRIPTION] => [~VALUE] => 141307 [~DESCRIPTION] => ) ) [DISPLAY_PROPERTIES] => Array ( ) [PRODUCT] => Array ( [TYPE] => 4 [AVAILABLE] => N [BUNDLE] => N [QUANTITY] => 0 [QUANTITY_TRACE] => Y [CAN_BUY_ZERO] => N [MEASURE] => 5 [SUBSCRIBE] => Y [VAT_ID] => 1 [VAT_RATE] => 0 [VAT_INCLUDED] => N [WEIGHT] => 0 [WIDTH] => 0 [LENGTH] => 0 [HEIGHT] => 0 [PAYMENT_TYPE] => S [RECUR_SCHEME_TYPE] => D [RECUR_SCHEME_LENGTH] => 0 [TRIAL_PRICE_ID] => 0 ) [CATALOG_TYPE] => 4 [CATALOG_AVAILABLE] => N [CATALOG_BUNDLE] => N [CATALOG_QUANTITY] => 0 [CATALOG_QUANTITY_TRACE] => Y [CATALOG_CAN_BUY_ZERO] => N [CATALOG_MEASURE] => 5 [CATALOG_SUBSCRIBE] => Y [CATALOG_VAT_ID] => 1 [CATALOG_VAT_INCLUDED] => N [CATALOG_WEIGHT] => 0 [CATALOG_WIDTH] => [CATALOG_LENGTH] => [CATALOG_HEIGHT] => [CATALOG_PRICE_TYPE] => S [CATALOG_RECUR_SCHEME_LENGTH] => [CATALOG_RECUR_SCHEME_TYPE] => D [CATALOG_QUANTITY_TRACE_ORIG] => D [CATALOG_CAN_BUY_ZERO_ORIG] => D [CATALOG_SUBSCRIBE_ORIG] => D [CATALOG_PURCHASING_PRICE] => [CATALOG_PURCHASING_CURRENCY] => [CATALOG_BARCODE_MULTI] => N [CATALOG_TRIAL_PRICE_ID] => [CATALOG_WITHOUT_ORDER] => N [~CATALOG_TYPE] => 4 [~CATALOG_AVAILABLE] => N [~CATALOG_BUNDLE] => N [~CATALOG_QUANTITY] => 0 [~CATALOG_QUANTITY_TRACE] => Y [~CATALOG_CAN_BUY_ZERO] => N [~CATALOG_MEASURE] => 5 [~CATALOG_SUBSCRIBE] => Y [~CATALOG_VAT_ID] => 1 [~CATALOG_VAT_INCLUDED] => N [~CATALOG_WEIGHT] => 0 [~CATALOG_WIDTH] => [~CATALOG_LENGTH] => [~CATALOG_HEIGHT] => [~CATALOG_PRICE_TYPE] => S [~CATALOG_RECUR_SCHEME_LENGTH] => [~CATALOG_RECUR_SCHEME_TYPE] => D [~CATALOG_QUANTITY_TRACE_ORIG] => D [~CATALOG_CAN_BUY_ZERO_ORIG] => D [~CATALOG_SUBSCRIBE_ORIG] => D [~CATALOG_PURCHASING_PRICE] => [~CATALOG_PURCHASING_CURRENCY] => [~CATALOG_BARCODE_MULTI] => N [~CATALOG_TRIAL_PRICE_ID] => [~CATALOG_WITHOUT_ORDER] => N [~CATALOG_VAT] => 0 [CATALOG_VAT] => 0 [ITEM_PRICE_MODE] => [ITEM_PRICES] => Array ( ) [ITEM_QUANTITY_RANGES] => Array ( ) [ITEM_MEASURE_RATIOS] => Array ( [15542] => Array ( [ID] => 15542 [RATIO] => 1 [IS_DEFAULT] => Y [PRODUCT_ID] => 203075 ) ) [ITEM_MEASURE] => Array ( [ID] => 5 [TITLE] => шт [~TITLE] => шт ) [ITEM_MEASURE_RATIO_SELECTED] => 15542 [ITEM_QUANTITY_RANGE_SELECTED] => [ITEM_PRICE_SELECTED] => [CHECK_QUANTITY] => 1 [CATALOG_MEASURE_NAME] => шт [~CATALOG_MEASURE_NAME] => шт [~BUY_URL] => /davines-the-circle-chronicles/maska-superblesk-dlya-volos-davines-the-circle-chronicles.html?action=BUY&id=203075 [BUY_URL] => /davines-the-circle-chronicles/maska-superblesk-dlya-volos-davines-the-circle-chronicles.html?action=BUY&id=203075 [~ADD_URL] => /davines-the-circle-chronicles/maska-superblesk-dlya-volos-davines-the-circle-chronicles.html?action=ADD2BASKET&id=203075 [ADD_URL] => /davines-the-circle-chronicles/maska-superblesk-dlya-volos-davines-the-circle-chronicles.html?action=ADD2BASKET&id=203075 [~SUBSCRIBE_URL] => /davines-the-circle-chronicles/maska-superblesk-dlya-volos-davines-the-circle-chronicles.html?action=SUBSCRIBE_PRODUCT&id=203075 [SUBSCRIBE_URL] => /davines-the-circle-chronicles/maska-superblesk-dlya-volos-davines-the-circle-chronicles.html?action=SUBSCRIBE_PRODUCT&id=203075 [CATALOG_MEASURE_RATIO] => 1 [CAN_BUY] => ) ) [OFFER_ID_SELECTED] => 141308 [CHECK_QUANTITY] => [ITEM_PRICE_MODE] => [ITEM_PRICES] => Array ( ) [ITEM_QUANTITY_RANGES] => Array ( ) [ITEM_MEASURE_RATIOS] => Array ( ) [ITEM_MEASURE] => Array ( [ID] => 5 [TITLE] => шт [~TITLE] => шт ) [ITEM_MEASURE_RATIO_SELECTED] => [ITEM_QUANTITY_RANGE_SELECTED] => [ITEM_PRICE_SELECTED] => [EDIT_LINK] => [DELETE_LINK] => [BACKGROUND_IMAGE] => [MORE_PHOTO] => Array ( ) [LINKED_ELEMENTS] => Array ( ) [SECTION] => Array ( [ID] => 6642 [~ID] => 6642 [MODIFIED_BY] => 10 [~MODIFIED_BY] => 10 [CREATED_BY] => 10 [~CREATED_BY] => 10 [IBLOCK_ID] => 4 [~IBLOCK_ID] => 4 [IBLOCK_SECTION_ID] => 6641 [~IBLOCK_SECTION_ID] => 6641 [ACTIVE] => Y [~ACTIVE] => Y [GLOBAL_ACTIVE] => Y [~GLOBAL_ACTIVE] => Y [SORT] => 550 [~SORT] => 550 [NAME] => The Circle Chronicles [~NAME] => The Circle Chronicles [PICTURE] => 79442 [~PICTURE] => 79442 [LEFT_MARGIN] => 238 [~LEFT_MARGIN] => 238 [RIGHT_MARGIN] => 239 [~RIGHT_MARGIN] => 239 [DEPTH_LEVEL] => 2 [~DEPTH_LEVEL] => 2 [DESCRIPTION] => [~DESCRIPTION] => [DESCRIPTION_TYPE] => html [~DESCRIPTION_TYPE] => html [CODE] => davines-the-circle-chronicles [~CODE] => davines-the-circle-chronicles [XML_ID] => [~XML_ID] => [TMP_ID] => [~TMP_ID] => [DETAIL_PICTURE] => [~DETAIL_PICTURE] => [SOCNET_GROUP_ID] => [~SOCNET_GROUP_ID] => [LIST_PAGE_URL] => / [~LIST_PAGE_URL] => / [SECTION_PAGE_URL] => /davines-the-circle-chronicles/ [~SECTION_PAGE_URL] => /davines-the-circle-chronicles/ [IBLOCK_TYPE_ID] => catalog [~IBLOCK_TYPE_ID] => catalog [IBLOCK_CODE] => [~IBLOCK_CODE] => [IBLOCK_EXTERNAL_ID] => [~IBLOCK_EXTERNAL_ID] => [EXTERNAL_ID] => [~EXTERNAL_ID] => [PATH] => Array ( [0] => Array ( [ID] => 6641 [~ID] => 6641 [CODE] => davines [~CODE] => davines [XML_ID] => [~XML_ID] => [EXTERNAL_ID] => [~EXTERNAL_ID] => [IBLOCK_ID] => 4 [~IBLOCK_ID] => 4 [IBLOCK_SECTION_ID] => [~IBLOCK_SECTION_ID] => [SORT] => 7 [~SORT] => 7 [NAME] => Davines [~NAME] => Davines [ACTIVE] => Y [~ACTIVE] => Y [DEPTH_LEVEL] => 1 [~DEPTH_LEVEL] => 1 [SECTION_PAGE_URL] => /davines/ [~SECTION_PAGE_URL] => /davines/ [IBLOCK_TYPE_ID] => catalog [~IBLOCK_TYPE_ID] => catalog [IBLOCK_CODE] => [~IBLOCK_CODE] => [IBLOCK_EXTERNAL_ID] => [~IBLOCK_EXTERNAL_ID] => [GLOBAL_ACTIVE] => Y [~GLOBAL_ACTIVE] => Y [IPROPERTY_VALUES] => Array ( [ELEMENT_PAGE_TITLE] => Davines [SECTION_PICTURE_FILE_ALT] => Davines Косметика [SECTION_PICTURE_FILE_TITLE] => Davines Косметика [SECTION_PICTURE_FILE_NAME] => davines [SECTION_DETAIL_PICTURE_FILE_ALT] => Davines Косметика [SECTION_DETAIL_PICTURE_FILE_TITLE] => Davines Косметика [SECTION_DETAIL_PICTURE_FILE_NAME] => davines [ELEMENT_PREVIEW_PICTURE_FILE_NAME] => davines [ELEMENT_DETAIL_PICTURE_FILE_NAME] => davines [SECTION_META_TITLE] => Davines | Купить в официальном магазине [SECTION_META_DESCRIPTION] => Davines - Профессиональная косметика для волос премиум-класса из Италии.. Купите с доставкой по всей России или приходите к нам в магазин (Москва). Официальная и оригинальная продукция. [SECTION_PAGE_TITLE] => Davines [ELEMENT_PREVIEW_PICTURE_FILE_ALT] => Davines [ELEMENT_PREVIEW_PICTURE_FILE_TITLE] => Davines [ELEMENT_DETAIL_PICTURE_FILE_ALT] => Davines [ELEMENT_DETAIL_PICTURE_FILE_TITLE] => Davines [SECTION_META_KEYWORDS] => davines, купить, интернет, магазин, доставка, самовывоз, москва [ELEMENT_META_KEYWORDS] => davines, купить, интернет, магазин, москва, отзывы, доставка ) ) [1] => Array ( [ID] => 6642 [~ID] => 6642 [CODE] => davines-the-circle-chronicles [~CODE] => davines-the-circle-chronicles [XML_ID] => [~XML_ID] => [EXTERNAL_ID] => [~EXTERNAL_ID] => [IBLOCK_ID] => 4 [~IBLOCK_ID] => 4 [IBLOCK_SECTION_ID] => 6641 [~IBLOCK_SECTION_ID] => 6641 [SORT] => 550 [~SORT] => 550 [NAME] => The Circle Chronicles [~NAME] => The Circle Chronicles [ACTIVE] => Y [~ACTIVE] => Y [DEPTH_LEVEL] => 2 [~DEPTH_LEVEL] => 2 [SECTION_PAGE_URL] => /davines-the-circle-chronicles/ [~SECTION_PAGE_URL] => /davines-the-circle-chronicles/ [IBLOCK_TYPE_ID] => catalog [~IBLOCK_TYPE_ID] => catalog [IBLOCK_CODE] => [~IBLOCK_CODE] => [IBLOCK_EXTERNAL_ID] => [~IBLOCK_EXTERNAL_ID] => [GLOBAL_ACTIVE] => Y [~GLOBAL_ACTIVE] => Y [IPROPERTY_VALUES] => Array ( [ELEMENT_PAGE_TITLE] => The Circle Chronicles [SECTION_PICTURE_FILE_ALT] => The Circle Chronicles Davines [SECTION_PICTURE_FILE_TITLE] => The Circle Chronicles Davines [SECTION_PICTURE_FILE_NAME] => davines-the-circle-chronicles [SECTION_DETAIL_PICTURE_FILE_ALT] => The Circle Chronicles Davines [SECTION_DETAIL_PICTURE_FILE_TITLE] => The Circle Chronicles Davines [SECTION_DETAIL_PICTURE_FILE_NAME] => davines-the-circle-chronicles [ELEMENT_PREVIEW_PICTURE_FILE_NAME] => davines-the-circle-chronicles [ELEMENT_DETAIL_PICTURE_FILE_NAME] => davines-the-circle-chronicles [SECTION_META_TITLE] => Davines The Circle Chronicles | Купить в официальном магазине [SECTION_META_DESCRIPTION] => Davines The Circle Chronicles - Must-have для волос и кожи головы с мгновенным эффектом.. Купите с доставкой по всей России или приходите к нам в магазин (Москва). Официальная и оригинальная продукция. [SECTION_PAGE_TITLE] => The Circle Chronicles [ELEMENT_PREVIEW_PICTURE_FILE_ALT] => The Circle Chronicles [ELEMENT_PREVIEW_PICTURE_FILE_TITLE] => The Circle Chronicles [ELEMENT_DETAIL_PICTURE_FILE_ALT] => The Circle Chronicles [ELEMENT_DETAIL_PICTURE_FILE_TITLE] => The Circle Chronicles [SECTION_META_KEYWORDS] => davines, the circle chronicles, купить, интернет, магазин, доставка, самовывоз, москва [ELEMENT_META_KEYWORDS] => the circle chronicles, купить, интернет, магазин, москва, отзывы, доставка ) ) ) ) [~BUY_URL] => /davines-the-circle-chronicles/maska-superblesk-dlya-volos-davines-the-circle-chronicles.html?action=BUY&id=141307 [BUY_URL] => /davines-the-circle-chronicles/maska-superblesk-dlya-volos-davines-the-circle-chronicles.html?action=BUY&id=141307 [~ADD_URL] => /davines-the-circle-chronicles/maska-superblesk-dlya-volos-davines-the-circle-chronicles.html?action=ADD2BASKET&id=141307 [ADD_URL] => /davines-the-circle-chronicles/maska-superblesk-dlya-volos-davines-the-circle-chronicles.html?action=ADD2BASKET&id=141307 [~SUBSCRIBE_URL] => /davines-the-circle-chronicles/maska-superblesk-dlya-volos-davines-the-circle-chronicles.html?action=SUBSCRIBE_PRODUCT&id=141307 [SUBSCRIBE_URL] => /davines-the-circle-chronicles/maska-superblesk-dlya-volos-davines-the-circle-chronicles.html?action=SUBSCRIBE_PRODUCT&id=141307 [CATALOG_MEASURE_NAME] => шт [~CATALOG_MEASURE_NAME] => шт [CATALOG_MEASURE_RATIO] => 1 [IS_FACEBOOK_CONVERSION_CUSTOMIZE_PRODUCT_EVENT_ENABLED] => [CATEGORY_PATH] => Davines/The Circle Chronicles [counterData] => Array ( [item] => eyJwcm9kdWN0X2lkIjoxNDEzMDcsImlibG9ja19pZCI6NCwicHJvZHVjdF90aXRsZSI6Ilx1MDQxY1x1MDQzMFx1MDQ0MVx1MDQzYVx1MDQzMC1cdTA0NDFcdTA0NDNcdTA0M2ZcdTA0MzVcdTA0NDBcdTA0MzFcdTA0M2JcdTA0MzVcdTA0NDFcdTA0M2EgXHUwNDM0XHUwNDNiXHUwNDRmIFx1MDQzMlx1MDQzZVx1MDQzYlx1MDQzZVx1MDQ0MSwgRGF2aW5lcyBUaGUgQ2lyY2xlIENocm9uaWNsZXMiLCJjYXRlZ29yeV9pZCI6IjY2NDIiLCJjYXRlZ29yeSI6eyI2NjQxIjoiRGF2aW5lcyIsIjY2NDIiOiJUaGUgQ2lyY2xlIENocm9uaWNsZXMifSwicHJpY2UiOjEwMzcsImN1cnJlbmN5IjoiUlVCIn0= [user_id] => Bitrix\Main\Text\JsExpression Object ( [expression:protected] => function(){return BX.message("USER_ID") ? BX.message("USER_ID") : 0;} ) [recommendation] => Bitrix\Main\Text\JsExpression Object ( [expression:protected] => function() { var rcmId = ""; var cookieValue = BX.getCookie("karamel_shop_RCM_PRODUCT_LOG"); var productId = 141307; var cItems = []; var cItem; if (cookieValue) { cItems = cookieValue.split("."); } var i = cItems.length; while (i--) { cItem = cItems[i].split("-"); if (cItem[0] == productId) { rcmId = cItem[1]; break; } } return rcmId; } ) [v] => 2 ) [META_TAGS] => Array ( [BROWSER_TITLE] => [KEYWORDS] => маска-суперблеск для волос, davines the circle chronicles, купить, интернет, магазин, москва, отзывы, доставка [DESCRIPTION] => ) [OFFERS_MIN_PRICE] => Array ( [PRICE] => 1220.00 [NUM] => 0 [ID] => 141308 [OLD_PRICE] => 1220 [PRINT_OLD_PRICE] => 1 220 ₽ [DISCOUNT_PRICE] => 1037 [PRINT_DISCOUNT_PRICE] => 1 037 ₽ ) [OFFER] => Array ( [0] => Array ( [ID] => 141308 [NAME] => Маска-суперблеск для волос 50мл, Davines The Circle Chronicles [VOLUME] => 50мл [PRICE] => 1220.00 ) [1] => Array ( [ID] => 141309 [NAME] => Маска-суперблеск для волос 6шт х 50мл, Davines The Circle Chronicles [VOLUME] => 6шт х 50мл [PRICE] => 5900.00 ) ) [ELEMENTTITLE] => Davines The Circle Chronicles Маска-суперблеск для волос )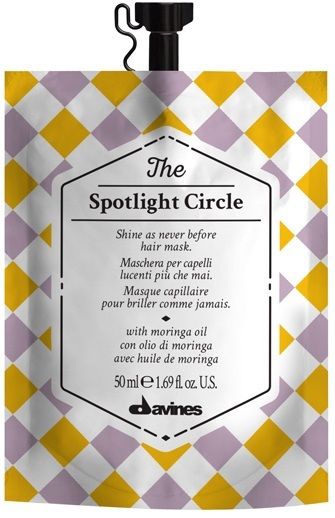 Описание Маска сливочно-белого цвета, созданная для придания волосам чрезвычайно яркого блеска, подчеркивает естественный или косметический цвет.

Благодаря прекрасному кондиционирующему эффекту эта маска увлажняет волосы, не утяжеляя их.

The Spotlight Circle без сульфатов и парабенов содержит масло моринги, богатое жирными кислотами, витаминами и белками, которые помогают заметно усилить блеск волос, обеспечивая при этом насыщенное питание.

Кому подойдет эта маска?
Это потрясающий продукт для тусклых и безжизненных волос.

Способ применения:
Нанести на чистые подсушенные полотенцем волосы, оставить на 10 минут, расчесать волосы, тщательно смыть водой.
В случае попадания продукта в глаза тщательно промыть их водой.
Отзывы покупателей об этом товаре
Рейтинг
На основе оценок покупателей
Отзыв о товаре
Davines The Circle Chronicles Маска-суперблеск для волос
Файлы
Перетащите сюда файлы или нажмите для выбора
Максимальный размер загружаемого файла 10M в формате jpg, gif, bmp, png, jpeg.
Максимальное количество файлов - 8 шт.

Видео
Максимальное количество видео - 8 шт.